2008-09-04
Antec P180 Mini - War against dust

2008-10-02 - Postscript1 - New Monitor
2008-10-12 - Postscript2 - War lost - Big Boy back in business

Summer goes to an end and with fall comes this irresistible desire to build a new computer.


The main goals this time:
The last battle against dust wasn't a total success, so I will give it a new try, using positive airpressure.
Silence of course, but it don't have to be completely inaudible, dustproof has higher priority.
Escape as much heat as possible from the GPU, without having it to travel all over the case.
It wasn't easy to find a suitable case. I finally picked Antec Mini P180, mainly because it has a huge number of fan options letting you play around with different configurations. And it is equipped with dust filters and practical cable management.



I know, the powersupply is serious overkill, but it was a matter of detachable cables and availability. However, the VX450 had been a wiser choice. It's cheaper, at this load it has 3-4% higher efficiency and you can easily hide the spare cables in the lower DVD cage.

I like the bolt thru mounting system for the Noctua cooler. When the backplate and this mounting brackets are in place, you can wait with the cooler. It's very easy to install it when the motherboard is in the case. Actually, it was the very last thing I installed, nice to have it out of the way when working in the case.

Just checking that it fits, final mounting will wait.
Actually, I wanted the HR-01 Plus, but couldn't find it in stock anywhere. However, this one is OK too.

The 8800GT is reused from previous build, but the Accelero S1 Rev2 is new (not available when I bought the card).
After this picture was taken, I have turned the fan the other way around, blowing air down, away from the card.

Note that the Motherboard must have the PCI-Express connector located in the highest position (closest to Northbridge), if you want to use this cooler including fan. And you can't use any of the other PCI connectors.
The first attempt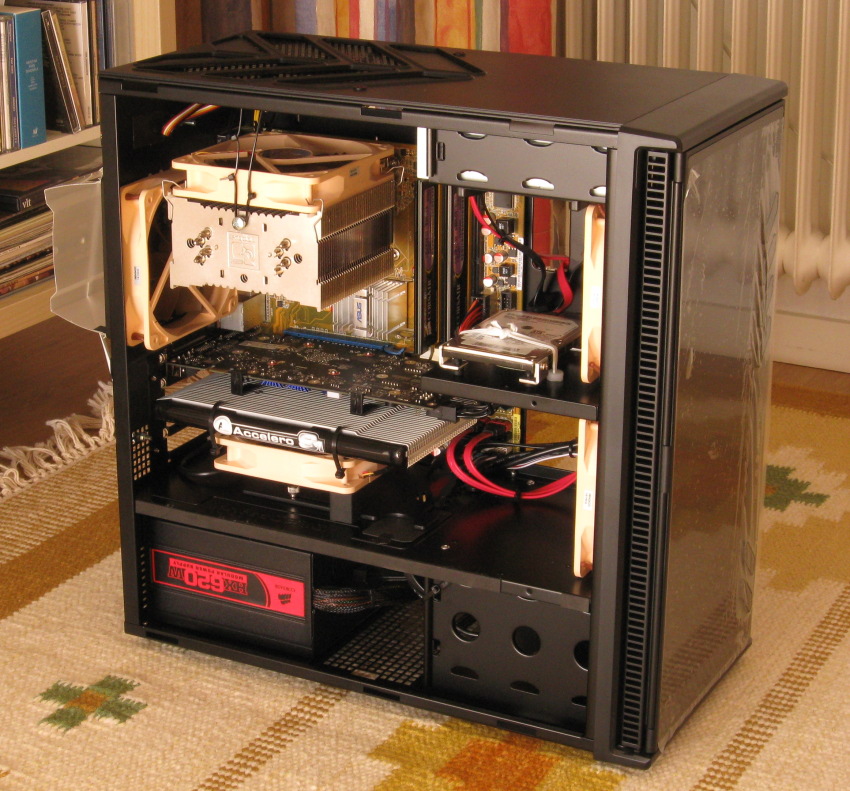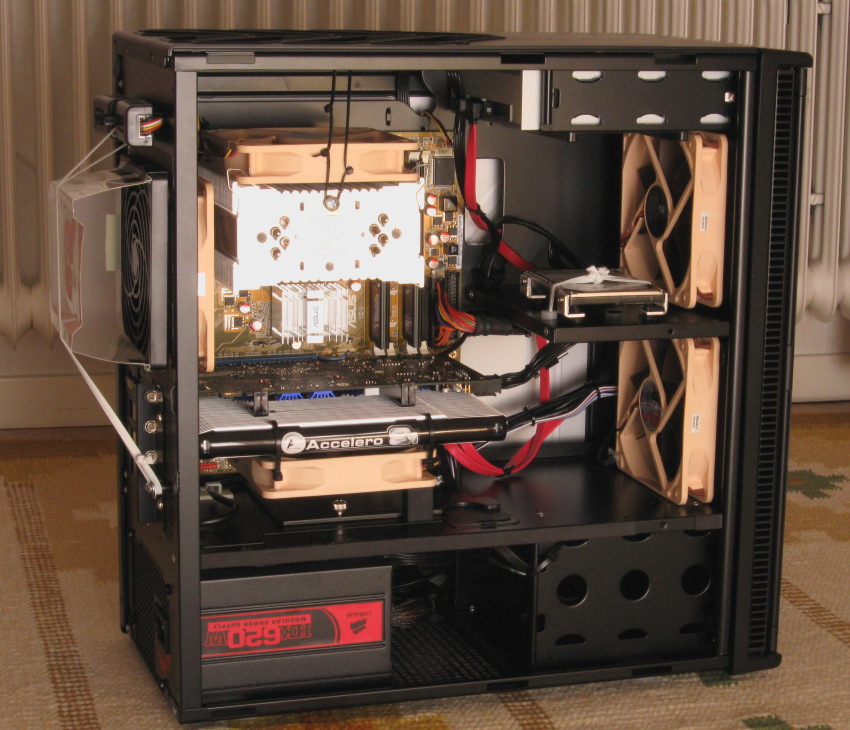 It's rather difficult to photograph this case. The black paint eats light while blank details are reflecting.


I thought that blocking a part of the top vent, would move pressure to the VGA exhaust, but it made no difference.



Airflow.
The two front fans are powered from one FanMate and the PSU fan from another. Remaning fans are hardwired to 5V.
Too noisy

Since I have heard that typical noise from two powersupplies with ADDA fans before, I wasn't very surprised. Fortunately, I have routed the cables from the PSU with enough slack, so the PSU can be lifted out, without disconnecting anything.

The ADDA was replaced by a Noctua NF-S12 1200 (powered by 5V from the outside).

Thought I also heard some buzzing from the Noctua NF-P12, that came with the cooler. It was spinning at 900 rpm and wouldn't start then I tried to undervolt it further, so I replaced it with a Nexux (the last Noctua was used to the PSU).
Finished
Not really, one last modification

I tested with this duct, to see if it would help to evacuate more heat through the open PCI slots.

I have not done any extensive testing, but i think it lowered VGA and NB temperatures a few degrees.
Noise
It is rather quiet, though not inaudible. The sound is very smooth and not disturbing, not even at late nights.
Besides, I know that I easily can make it very close to inaudible, if I only give up this dust campaign.
Restrictive filters on one side and backpressure on the other is not ideal conditions for fans to be silent.


Temperatures (CPU modest undervolted to 1.15V)
CPU:
Motherboard:
Harddrive:
GPU:

never less margin than 40C to TJunctionMax
never above 40C
28-30C
up to 65C running RTHDRIBL


This does surprise me
The front intakes are very restrictive, with unmodded filterdoors and double dust filters.
However, open the doors and removing the filters don't make any difference to temperatures.
The only explanation I can think of, is that backpressure is determining the amount of air that can enter the case.
Installed and working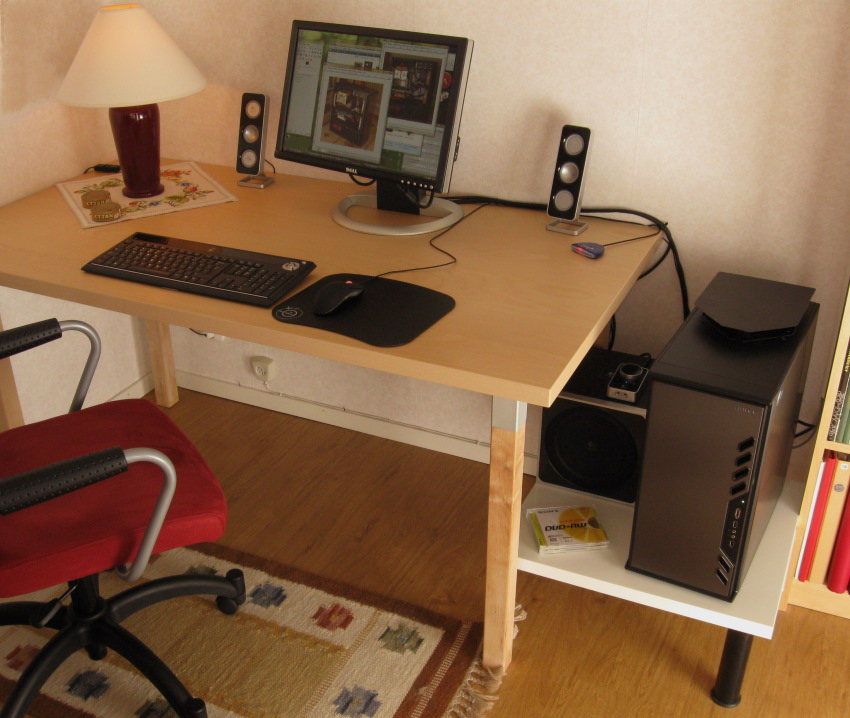 That spoiler is supposed to prevent dust from falling into the case, when the computer is turned off.
Obsessed by dust? Nah.




Postscript1 - New monitor

I had other use for my four years old Dell 2005FPW (with a very nice S-IPS panel), so I was looking around for something slightly larger. Because TN-panels with their limited viewing angles were no option, it wasn't so many to choose from.

LG W2600HP-BF S-IPS panel -- I thought, I had found the perfect monitor in that one.
The best panel type, good looking, 26 inches, almost none input lag, not very expensive. Too good to be true?

Yes! Damn LG! They have equipped that thing with a very noisy circuit for regulation of brightness. At all settings, other than 100% it was both buzzing and whining, rather annoying. Nothing else to do than send it back.

Note, that LG W2600HP-PF that is listed in US and Canada uses a TN-panel.


Dell 2408WFP S-PVA panel -- I ordered this one in stead.
It's not completely silent. You can hear a weak buzz from 10-30 cm away, but it vanishes when the monitor is warmed up.

I am just an amateur, but as far as I can tell, the colors are fine. A couple of quotes from Anandtech:
Yes, that's right: without hardware calibration, the Dell 2408WFP can surpass many other LCDs with hardware calibration.
Simply put the colors and color accuracy of the Dell 2408WFP absolutely blew us away.

Yes, I know about the stated input lag, so I started Crysis and killed some enemies. Couldn't notice any lag. I also did some calulations. Crysis is running at 40FPS. Three frames lag then, means less than one tenth of a second. I am not that fast, so I don't mind.

Clean and matte finish. Non glossy panel and bezel.

Decent viewing angles.

Though, moving my head horizontally, I can see
some color shiftings, that I did not on the old Dell.

Postscript2 - War lost - Big Boy back in business

I had to open the case after two months, in order to replace a broken DVD burner. And what did I find? Dust! Still not that much, but enough to make the expression dustproof disused. So, I have, more or less, given up that silly war against dust.

Because of that, I could also give up that positive airpressure, that wasn't very effective, and besides, made the fans sounding a bit strained.

Changes:
- Turned the back fan around, now working as exhaust.
- Put the original Antec BigBoy back, as top exhaust.
- Removed CPU fan and upper front intake fan.
- Taped all openings in the backpanel.
- I left the VGA fan blowing downwards, to avoid that heat is directly submitted to CPU cooler and Northbridge.
- For the moment I will keep the extra dustfilters and the filterdoors.

Result:
- Noise level is down by two or three decibels and the sound is smoother.
- Temperatures is a bit lower too. Especially, for the GPU, that went down about 5C.