Building a Pretty Little Computer
1. Components
Chassi
Motherboard
CPU
CPU-cooler
Powersupply
Memory
Video card
Harddrive
Optical drive
Back intake fan
Front exhaust fan
Fan control
OS:

Silverstone Temjin TJ08
Asus P5K-VM mATX Intel G33 chipset
Intel Core 2 Duo E4400
Noctua NH-U9F with Noctua 92mm fan (*)
Corsair HX520 with Noctua NF-S12-1200 120mm fan (*)
Corsair TWIN2X PC2-6400 (4096 MB)
Asus Geforce 8600GT with Zalman VF900-Cu (hardmounted at 5V)
Hitachi Travelstar 160GB SATA 2.5"
NEC AD-7170S SATA
Nexus 120mm Real Silent (*)
Nexus 120mm Real Silent (*)
Akasa AK-FC-03
Windows Vista Home Premium 32-bit

(*) connected to fan controller
Case: Silverstone Temjin TJ08


This is a nice little case. Rather spacious, considering the the small size. Especially with the drive cage removed. It sure has potential for efficient cooling. Removeable motherboard tray.

But of course it also has flaws:

Lacks that real feeling for quality and fitting. Thin steel panels that feels a bit flimsy. High quality power and reset buttons, however.
&nbsp
Some edges are rounded others are not. Then I, finally, realized that, I could count to six cuts on my fingers.
&nbsp
There is a dust filter in the front, but very hard to reach. Mine was not properly mounted, so it let both air and dust through. Properly mounted however, both dust an air presumably will be kept out, because the filter is very dense.
&nbsp
The supplied fans seems to be of pretty good quality and are rather quiet at low voltage (manufacturer: Everflow). They are, however, only fitted with molex connectors, so they aren't very easy to use in silent mode.
&nbsp
Motherboard: Asus P5K-VM


Nothing special with this motherboard. It delivers what you can expect.

Some notes:


Solid capacitors.
Four-pin connector for the CPU-fan.
Only CPU-fan can be controlled by BIOS and only in predefined, fixed modes.
I don't use any fan connector and I have disabled Asus Q-Fan Control, but I still get CPU-fan error message during Post.
&nbsp
PS: Finally, I discovered that you have to change CPU Fan from N/A to Ignored. No more beeping...
CPU: Intel Core 2 Duo E4400




This one doesn't use much power and is easy to cool.
&nbsp
Still, it's powerfull enough for my needs.
&nbsp
Only has to work at 50% load to keep up with the VGA-card.
&nbsp
I haven't done anything to these numbers yet, they are defaults.
CPU-Cooler: Noctua NH-U9F with Noctua 92mm fan
On this motherboard the cooler can be mounted in any direction. It doesn't overhang the top edge of the board and there is good clearance to both northbridge and memory.
Easy and secure mounting. You can see one of two springloaded screws in this picture.
Powersupply: Corsair HX520

This powersupply is highly recommended, but it's cooled by an Adda fan and I don't care much for Adda fans, have already thrown a couple in the garbage can. In my previous build a Seasonic S12 was, by far, the loudest component. Therefore I had made up plans for an early fanswap.
So the first thing I did was to break the void warranty label and unmount the fan. According to SPCR review, the fan control in this PSU puts out about 3.8V under low load, so I was running the fan at that voltage and did some listening.

Well, standing free on the floor, it was almost inaudible but a very weak metallic rattle could be heard. However, then mounted back in the top cover, a whining sound was added, and then the top cover was mounted back on the PSU the whining was further amplified and became very auidble. That definitely disqualified this sample from further use.
There are many people in the SPCR-forums, complaining over buzzing/whining powersupplies, sometimes called coil-wines. Peraps many of these issues can be spelled ADDA. To be perfectly clear, the powersupply it self, was never connected during these tests, so the whining came purely from the fan.
Decide what fan to use.

I had three different 120mm fans to choose from. Silverstone/Everflow that came with the case, Nexus and Noctua. Yes, all of them sleeve bearing and I know what is said in the forums about using them in a horizontal position and in a hot environment. But does anyone realy know? If Nexus or Noctua does, they certainly don't mention something on their homepages. Nexus even use one of them in bottom of their Breeze case.
Perhaps, not very scientific, but with a piece of paper, I measured the airflow from the Adda at 3.8V. Then, I turned the other ones up, until they blow about the same amount of air. They were all inaudible at that point.
| | |
| --- | --- |
| Finally, after reading this on their homepage, I picked up the Noctua. | |
Mounting the new fan.
A bit crowded here, rather easy to loosen the connector, but then it was stuck between those stiff wires, so I had to cut loose the fan. That had to be done anyway, since I was going to solder a male fanconnector in it's place. That done, I reconnected the wire to the PSU.



Finished, the Noctua is mounted. The wire marked F comes from the fan, the one marked C comes from the fancontrol. If you put them together the PSU will control the fan as it was supposed to do from the beginning. However, I intend to run it from the Akasa fancontrol.
This is the wire from PSU fancontrol routed to the back of case so that I easily can monitor the voltage it puts out with a multimeter. If it stays stable at 3.8V the PSU is cool and nice.



Memory: 4GB Corsair TWIN2X PC2-6400


Memory is cheap these days so a bougth 4GB, although I can't use more than 3GB with Vista 32bit.
Video card: Asus Geforce 8600GT

Nothing much, but it will do for the moment. I don't want to handle more heat than this.

It's enough for a poker-client in 3D and it's enough if I want to play for example Half Life 2 Episode Two. X-bit labs don't think so, but I don't have to play at the highest resolutions and settings.
Replace the cooler with Zalman VF900-Cu

Zalman doesn't have this GPU listed for the VF900-cooler, but I was looking at a lot of pictures all over the web, and came to the conclusion that it still should fit.

Well, the holes were fine but obviously this GPU is a little higher, so the mounting nipples was about 1mm too short. I think it's possible to mount the cooler anyway, but then you have to apply sufficient and even pressure on all of the four nuts.

This issue was, however, easily solved with a couple of small washers. I forgot to take a picture, but perhaps this sketch can explain the issue.
Lucky enough, there was clearance for those capacitors. This is a very nice cooler. I have used it before and know that it's inaudible at 5V.
Harddrive: Hitachi Travelstar 160GB SATA 2.5"

I can't understand how people are able to fill up 500GB and more. I have one System-partition that takes 30GB and one Data-partition that only takes a few GB. Of course, I don't store neither music nor movies and I know how to delete old junk.

So I never considered anything else than a laptop drive, because of its acoustic and thermal advantages. I don't think I will notice the somewhat slower performance.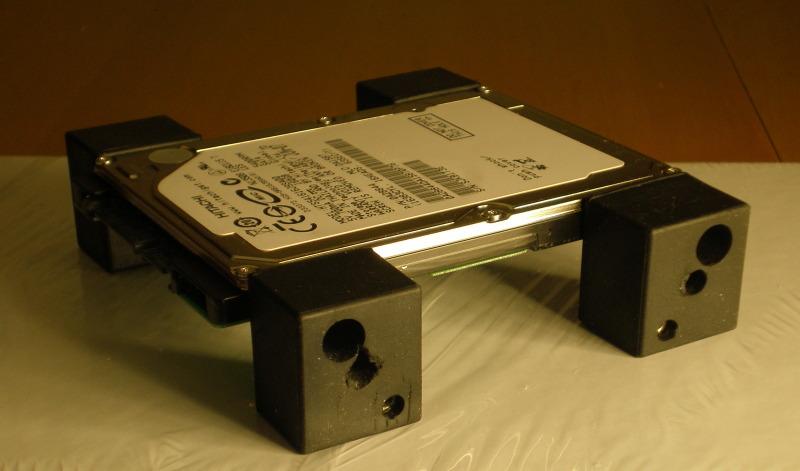 I had never seen a laptop drive in real life, so I was a bit shocked by its small size and low weight, almost throw it out together with the packing material.

These rubberfeets were leftovers (from a couple of Nexus Twin Drives) that I had laying around, so why not use them to lift up the drive from the foam it will be placed on, letting air pass through beneath.
If you can tie your shoes, you can mount this drive. The shoestring holds it in place then moving the case around. Surley, I don't have to mention that it's dead silent?
Fan control: Akasa AK-FC-03
All fans (except VGA, including PSU) will be driven from this one. Two temperature sensors will be used to monitor PSU intake and exhaust as a precaution. It will also beep and flash if PSU fan fails.